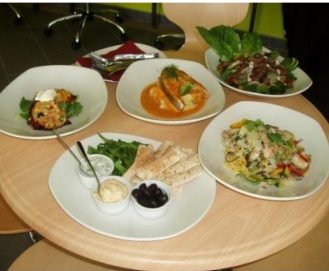 Canolfan Gorseinon Centre Catering Supervisor
About the role
We are looking for an enthusiastic and experienced Catering Supervisor to serve meals for the nursery and support requirements by customers of the Canolfan Gorseinon Centre.
Pay: £9.23 per hour
Hours: 30 per week
Days: Monday to Friday
Times: 7:30am – 1:30 pm
Location: Canolfan Gorseinon
Contract Type: Fixed Term of 6 months with possibility to extend
Annual Leave: 28 days including Bank Holidays
You will be responsible for the daily running of the kitchen and should ideally have experience of catering for young children.
About you
You will need:
Ability to plan and organise the kitchen to its full potential
Be able to use your own initiative in the day to day running of the kitchen
At least 2 years practical cooking experience in a catering environment within the last 3 years.
Firm commitment to providing a quality catering service.
Food Hygiene Certificate level 2
About us
Trusting Hands Day Nursery operates from the Canolfan Gorseinon. The Canolfan Gorseinon serves the community by providing an onsite children's nursery for children aged 0-5, offering room hire facilities and office space. It is governed by the charity, Gorseinon Development Trust.
Apply
For further Information please see Job Description below
Closing Date 31.12.2020
Informal enquiries speak to the Nursery Manager, Caroline White on 01792 222670.
To apply please email CV and forwarding letter to nursery.manager@gdt.org.uk
JOB DESCRIPTION- CANOLFAN CATERING SUPERVISOR
Responsible to: Trusting Hands Nursery Manager
Principle Duty:
To establish and maintain, develop, and deliver t the food and beverage service of the Nursery to meet Quality standards, customer expectations, Food Safety and Hygiene standards, kitchen Health and Safety standards and financial targets.
Location of work: Canolfan Gorseinon Centre
Hours of Work: 30 hours
Days of Work: Monday – Friday
Times of Work: 7:30am – 1:30pm
Salary: £9.23 per hour
Contract: 6 months Fixed Term with potential extension
______________________________________________________________________________
The Role
Gorseinon Development Trust Limited is looking for an experienced catering supervisor with a passion for preparing fresh meals using fresh ingredients and the ability to cook healthy food from scratch following our established menu. The catering supervisor must have a natural warm personality to fit in with our friendly established "Trusting Hands Nursery"
The right candidate will be up to date with all environmental health guidelines and have awareness of allergies and allergens. You will be willing to complete training and refresh knowledge and will hold a level 3 Food Safety qualification. An enhanced DBS is required.
To organise, cook and prepare a healthy, balanced diet for children aged 0 to 5 years in accordance with the nursery menus.
Take into consideration daily those children who have special dietary requirements and prepare a suitable alternative.
Prepare a suitably balanced rotating menu taking into account dietary and cultural requirements of the children.
Ensure high standards of hygiene, health and safety is always maintained in the kitchen.
AREAS OF RESPONSIBILITY
1 Operational Responsibilities
To be responsible for the day-to-day running of the kitchen, ensuring compliance with registration and legislative requirements at all times.
Responsible for the planning and preparation of food to provide meals in accordance with our nursery menus and food policies.
Ensure that all individual dietary requirements are catered for in line with parental guidance.
Maintain necessary kitchen procedures and records in accordance with Trusting Hands Nursery's and Environmental Health policies and processes.
Liaise with the Nursery Manager on the ordering of necessary kitchen equipment.
To prepare, cook, delivery any light menus as required by tenants and room hire clients of the centre.
To undertake any other reasonable catering duties as requested by the Nursery Manager or the Trustees.
Ensure the kitchen and equipment is always kept suitably clean including walls, floors and trolleys to transport food following a cleaning schedule. On a daily basis that all crockery, cutlery and cooking utensils are washed in accordance with food safety guidelines.
Ensure that all foods are ready at the specified time and correctly served.
To implement and maintain the company's equal opportunities policy ensuring that children, parents and the staff team are valued, and practice is positive and non-discriminatory.
To monitor any safeguarding issues following local authority procedures.
2 Individual Accountability
To ensure you have a clean uniform, including head wear, daily and wear suitable footwear for working in a busy kitchen space.
To give daily feedback to the Nursery Manager about the kitchen including any situation that may be detrimental to the company.
Ensure the effective and regular removal of waste materials to the designated waste area.
The ability to use food preparation equipment and ensure the economic use of materials, equipment and energy.
The ability to work as part of a team and use your own initiative.
The ability to manage your own time and prioritise tasks.
Have a friendly, flexible approach.
To have total responsibility of the kitchen, cleaning all the equipment and appliances, take temperatures of the food, fridge and freezer and record these in the kitchen file.
3 Personnel
To establish good professional relationships with colleagues.
Work with the Nursery Manager to implement and ensure that set budgets are not exceeded.
Responsible for control, storage and rotation of kitchen stock.
Order food in line with Trusting Hands Nursery's policies.
The ability to order correct amounts of food and control kitchen stock.
To prepare a weekly shopping list and help with putting the shopping away.
4. Training and Development
To contribute to the team effort of the nursery and to attend staff meetings and social events as and when required.
Commitment to undertaking appropriate training and continued professional development.
To undertake future and refresher training as appropriate.
Be professional, polite and positive in all verbal and non-verbal interactions with staff, parents and children at all times.
5 Health & Safety
To ensure that the highest standards of health and safety apply to both children, staff, parents and visitor, maintaining a safe and secure environment.
Ensure that hygiene and cleanliness within the kitchen is of the highest standard in accordance with Environmental Health requirements and legislation.
Pay due attention to the catering supervisors dress code: Hair to be tied back if touching your collar, no nail varnish, no false nails, no rings except for the wedding band, trousers, nursery polo shirt and apron
Maintain an awareness of food allergies keeping an up to date log of all children in the nursery, working with the staff team during new admissions.
Update your knowledge and awareness of Health and Safety issues including COSHH regularly.
To be responsible for the hygiene and complete all Risk Assessment within the kitchen area.
Prevent cross contamination of food within the kitchen area.
Temperatures of high-risk food must be recorded at time of delivery and cooking. All food must be stored and served at the temperatures required by the Chartered Institute of Environmental Health Food Safety.
Conditions of Employment
This Job Description is not intended to be a complete inventory of all the activities the jobholder would be expected to undertake. The post holder is required to comply with all the nursery's and Trust policies and procedures and to meet his/her responsibilities under the Health & Safety at Work Act.
This Job Description will be subject to review and change considering future developments. The main role is support for the Nursery, but catering support may be required for tenants and rooms hire clients on an occasional basis.
The post holder will be actively involved in any job review with the Nursery Manager and the Trustees of Gorseinon Development Trust Ltd. We are committed to promoting Equal Opportunities, Diversity & Inclusion.
Note: Trusting Hands Nursery is a trading name of Gorseinon Development Trust Limited, a Company registered by Guarantee 464561 and a registered Charity no 1123576